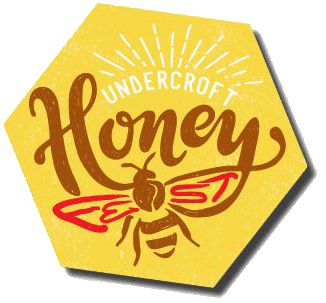 Undercroft HoneyFest
Undercroft's HoneyFest is a one-of-a-kind event that celebrates all things honey! The annual event includes live music, food and family fun under the Springtime sun at Guthrie Green! With the help of area beekeepers, you can also learn how to make Tulsa a more bee-friendly community – which in turn will help our environment thrive and grow!
Event details:
Bee Education. Educational seminars on bees and beekeeping provided by area beekeepers. Learn how to help increase our bee population, attract bees to your garden or become a beekeeper!
Live Music. Entertainment on the Guthrie Green stage provided by local musicians, plus Undercroft Montessori's student Rock Band and Jazz Band.
Bee Market. Bee products, beekeeping supplies and honey or beeswax products for sale.
Honey Treats & Eats. Tulsa's local foodie community will be selling delicious foods and beverages flavored with honey.
KidZone. A special activity and STEM area for kids of all ages to create fun bee-related art projects they can take home. Provided by AHHA and DiscoveryLab.
Local Vendor Booths. Browse and learn about various products and services offered by the area's local businesses; including our own Middle School Honey Booth!
Local Food Trucks. A selection of Tulsa's best food trucks will be selling their delicacies during the event.