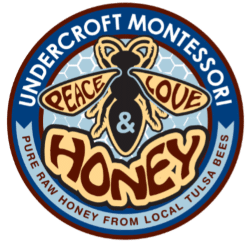 Support Undercroft's Middle School Students!
You can help support our Middle School by purchasing local, raw honey online! This delicious, all-natural honey is harvested from Tulsa's own honeybees by a local honey farm, Roark Acres Honey Farms . Order yours today!
Proceeds from all honey purchases go directly to the Undercroft Middle School class budget, which is used for trips and other education-enhancing activities. This business is run and managed solely by our Middle School students with limited guidance from school personnel.
Honey can be purchased online securely with PayPal and then picked up at the school location of your choice! All honey orders are fulfilled on Thursdays.